General Information
Dubai is the second largest emirate in the federation of the United Arab Emirates. It is, also, the economic capital of the state due to many advantages offered by this modern city on all aspects.
Favorable business conditions and shrewd investment decisions have led to Dubai becoming one of the Gulf's most successful and rapidly expanding economic environments and Dubai is now firmly established as the business, financial and commercial hub of the region. It is a prosperous and diverse market and the employment growth required to match its expansion provides excellent opportunities for both clients and candidates.
Indeed, Dubai has the fastest growing population in the world and is home to an exciting, diverse, multi-cultural blend of young, dynamic, professional people all enjoying the unrivalled quality of life the Emirate has to offer. People are drawn to the City as much for lifestyle reasons as for the outstanding employment prospects on offer.
Language
Arabic is the official & national language for the UAE. English is widely spread in UAE that is why traffic and roads signage, stores and supermarkets signboards and restaurant menus are all available in both languages. Spoken and written Arabic is widely used more in streets and shop signboards as you move away out of cities.
Religion
Islam is the official religion in UAE. Its rituals are widely practiced. Friday is a special religious day in Islam.
The UAE constitution guarantees freedom of religions which harmonies with the Emirati society traditions.
Currency
The local currency is the dirham (Dhs) also known as the Arab Emirate Dirham (AED). The currency is tied to the US dollar 1US$ = Dhs 3.67. Coins include: Dhs 1, 50 fils and 25 fils. Notes are of Dhs 5, 10, 20, 50, 10, 200, 500 and 1,000 denominations.
All major credit card brands are accepted in the UAE.
Time
Local time is GMT + 4 hours, all year round.
Climate
The UAE has a sub-tropical climate with warm temperatures, infrequent rainfall and blue skies most of the year. The climate in UAE is idyllic from November to April with warm sunny days, cool evenings and low humidity. Daytime temperatures range from 18°C to 30°C, dropping down to 12°C at night.
Visa
Before you travel to the UAE, please check your visa requirements and make sure you have a valid visa if needed. Holders of non-standard passports and travel documents may also have different entry requirements. Please check your visa and passport requirements with your UAE embassy.
For those requiring an invitation letter to secure their visas please contact Rana Kailani of ESMA via E-mail: rana@esma.ae
Clothing
Apart from the winter evenings when shawls and jackets may be required, lightweight summer clothing is suitable for most of the year. In order to respect the national customs, conservative dress is advised. In public places ladies should cover their shoulders and the rest of the body down to the knees.
Transport
Bus
Dubai has a very large bus system run by the Roads and Transport Authority (RTA). The bus system has 193 routes on weekdays.
Taxi
Dubai also has an extensive taxi system, by far the most frequently used means of public transport within the Emirate. There are both government-operated and private cab companies. The Dubai Transport Corporation operates cream-coloured taxis. Some of the private cab companies are Cars Taxi, National Taxi, Cititaxi and Metro Taxi.
Metro
The Dubai Metro is a driverless, fully automated metro network in the United Arab Emirates city of Dubai. The Dubai Metro system has 47 Stations over 75km. For more information regarding timetables, ticketing and maps please visit http://dubaimetro.eu
Dubai International Airport (DXB)
Located in the Al Garhoud district and ten minutes from the city centre, the airport is conveniently accessible via limousine, taxi, bus and the Dubai Metro.
Sharjah International Airport (SHJ)
The airport is conveniently accessible via limousine, taxi, bus and shuttle bus.
Fujairah International Airport (FJR)
The airport is conveniently accessible via limousine, taxi, bus and shuttle bus.
Abu Dhabi International Airport (AUH)
The airport is conveniently accessible via limousine, taxi, bus and shuttle bus.
Shopping
Shopping centers in Dubai form a major portion of the city's skyline. You can see a plethora of skyscrapers vying for their own little space in the all-encompassing sky. Most tourists from across the globe come here lured by the thrill and amusement of shopping in Dubai. Dubai's shopping centers are perpetually swarming with locals and tourists on Dubai tours. Sprinkled all across the emirate, Dubai shopping centers have been giving strong competition to the prime shopping destinations like Singapore, New York, Paris, etc. Second to none in their architectural magnificence, these Dubai shopping markets have become some of the biggest tourist attractions of Dubai.
Alcohol
Dubai has several laws regarding alcohol which tourists should be aware of before visiting:
Alcohol is available only at licensed premises, usually attached to hotels (most nightclubs and bars are in or attached to hotels, though they may have separate entrances).
Alcohol is not sold on religious holidays, nor during daylight hours in Ramadan (even to non-Muslims).
It is illegal to drink alcohol in public places
Alcohol can be bought only for home consumption at certain outlets in Dubai, and an alcohol license is required. Supermarkets only stock non-alcoholic beers. Even food items containing alcohol are not sold in supermarkets.
The Legal age for drinking is 21 years.
Business Hours
The working week for both the private and public sectors runs from Sunday to Thursday, although many private companies work 6 (or 5½) days taking only Friday off. Under the Labor Law only Friday is an official day off.
Shops and Malls usually open daily from 10am – 11pm, closing later on the weekends.
On Friday all shops close for Prayer Time between 11.30 am and 1.30 pm and the malls open at 2 pm, until late. However, Petrol stations and hotels maintain their service during the Friday prayers.
Electricity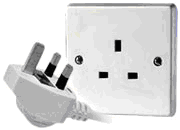 220/240 volts and 50 cycles. UK style, 3 pin plugs are the norm.
Driving
Cars are driven on the right hand side of the road. Seat belts must be worn in the front and it is recommended that passengers buckle up in the back as well. Speed limits vary from around 70 kmph in built up areas to 120 kmph on the highways. There are plenty of speed cameras and zero tolerance for drinking and driving.
Hiring a Car
The minimum age for renting a vehicle is usually 21. A credit card, valid driving license and passport copy are required for the rental procedure. Some hire companies have representative desks in the main hotels.
Useful Links
http://www.definitelydubai.com/